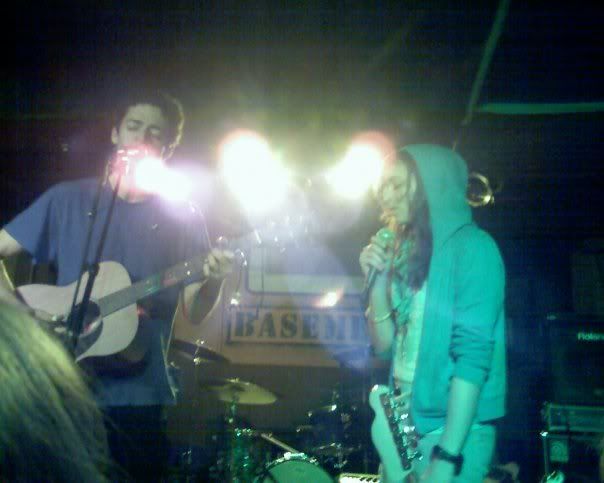 Hey there, damn it's late. I was just finishin' up some things, figured I should update you guys seeing as I haven't posted anything in like 10 years. Midterms were killin' me, but on Sunday night my roomate some friends and I went to the Kevin Devine show at the basement. First off, I really like the venue, this is my second time going but it is really cool if you haven't been there. Anyway, the first band was the Jealous Girlfriends, not a huge fan of the name, but they rocked. They opened up with some rock and then slowly called up friends to play with them, first AA Bondy(who was the second act), then Kevin Devine, real cool, looked like they had a killer time. The second act, as I said, was AA Bondy, again, someone I've never heard of, but, he was real cool. He had sort of a Dylan-esque sound with the acoustic guitar and a harmonica. He also called up friends during the course of his set. He played mostly blues, but during the end of his set he picked up the electric guitar and rocked a bit. Really impressed with these two bands, you should definately check them out.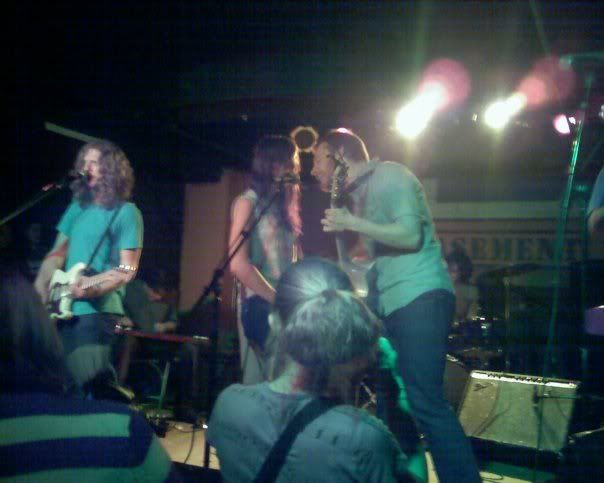 Then came Kevin Devine, who my roomate has seen on numerous occasion, but I never actually heard any of his stuff until that night. He was awesome, he played acoustic for the beginning part of his set, and like the other bands, called up other band members to come up and play with him. You could easily tell everyone was having a wonderful time, seeing as it was the last stop of their three week tour. Kevin was not only an amazing performer, but he was pretty funny too, heh.
Anyway, like I said, my roomate and his two buddies had seen Kevin on numerous occassions, so after the show we went up and talked to him. He seemed like an awesome guy, he was jokin' around with us and everything. Haha, and before we took off, he gave us all hugs, heh. The show was a blast, everyone one there seemed to have a wonderful time. Definately see this guy if you get a chance.
btw, again, I'm workin' on getting a new camera, although, the shitty quality actually turns out cool with the basement's lighting....

later,
t0ny