Welp, the weekend has come to a close and I'm officially wishing I could go back and redo it indefinitely. This Sunday I went to go see Lupe Fiasco at the Newport with a few friends. The show was put on by OUAB and tickets were only 5 bucks a pop, can't beat that. The show was pretty awesome, lupe's great. However, we were pretty far back on the floor and the bass was overpowering everything. The show was still pretty impressive. The best parts in my opinion were when lupe would rap the songs with no beats behind it. He would do a song and then do it again crazy fast with no beats. This could be a result of where I was standing. Also, for Lupe's big single "Superstar", Matthew Santos came out and performed it along side him. Apparently that's the name of the guy who does the singing on the track, didn't know. He also had his voice sampled for another song right after. His inclusion in the show was an excellent choice.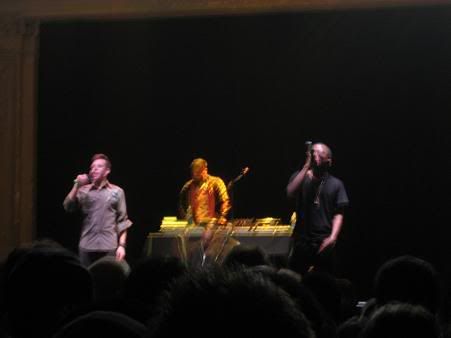 However, after the set people began to chant "encore", and at this time the majority of people had either started to or were filing off the floor. Then the lights dimmed and whoever was still waiting around jetted up to the front. This was sweet, completely reshuffled the crowd and I ended up being about seven rows back. He did about 3 or 4 more songs, including "Go Go Gadget Flow". These last 15-20 minutes were a completely different experience. Looking back, I wish I would have gotten there much earlier.
Overall, pretty sweet show, and the first hip-hop show I've been to down here. Well, except for T-pain in the fall which I happened to be walking past (which was pathetic). Hopefully I get to see some more concerts like this one.
Definately check out some of Lupe's stuff if you haven't.
damnit...just realized I accidentally deleted this sweet video clip I took...
welp, take it easy
tony