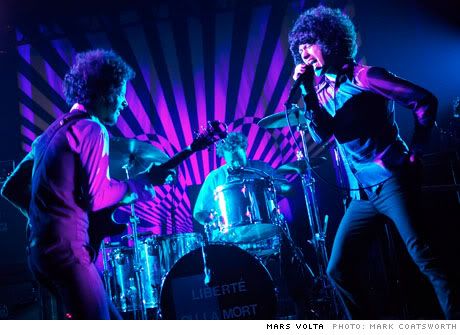 7/16/07 -
Well, I've kinda been slacking with the whole posting and whatnot but
heres
this weeks artist of the week. This one has been a long time coming as they are my favorite band, The Mars Volta. A psychedelic mix of rock, jazz, and Latin influence, they are something quite unique. The brains of the operation include Cedric
Bixler
-
Zavala
and Omar A. Rodriguez-Lopez, who have taken part in another great band "At the Drive-In" and a lesser known dub band titled "De Facto". The Mars Volta's first full album, "De-Loused in the
Commatorium
" told the first person story of a person with a drug induced coma battling the evils of his mind. The Mars Volta later said that the story was based on a friend who awoke from a coma and committed suicide named Julio
Veneges
, or "
Cerpin
Taxt
" as he is called on the album. The album received critical acclaim, and is one of my personal favorites. The Mars Volta then put out a more challenging album by the name of "Frances the Mute". The album tells the story of characters from a diary which late sound technician Jeremy Ward found in a car he repossessed while working as a
repoman
. The album also reached critical acclaim with a
metascore
of 75/100. In support of the album, the band toured with System of a down, which I was lucky enough to attend in Cleveland. While I'm on the topic of Live Shows, they have had a pretty negative feedback due to their ambient jams in support of more structured rock such as the red hot chili peppers and system of a down. The band has been recorded saying that they play ambiance rather than their songs in protest to their record label forcing them to tour with bands with such different followings than their own. Omar A. Rodriguez-Lopez is becoming famous for being the most ambitious man in modern day music, putting out a Mars Volta album out once a year along with solo albums and a film. The Mars Volta's third studio album came out early last year and it was titled "
Amputechture
".
Amputechture
focuses on the demystifying of modern day religion and basically the problems of the world today. Although it is a concept album, there is no narrative, like the previous two efforts.
Anyway, although the Mars Volta may not fit your taste, I'd say they are
definitely
worth a shot, as I have truly enjoyed everything they put out and I can't wait for their next release.
Weekly Picks
1) The Mars Volta -
L'Via
L'Viaquez
2) The Mars Volta - Roulette Dares (the haunt of)
3) The Mars Volta - Day of the
Baphomets
4) The Mars Volta -
Cicatriz
ESP
5) The Mars Volta -
Televators
The Widow Music Video