Yo, finally found a way to upload the pics from my camera due to my failing card reader. Anyway, last Thursday I went to the Maps and Atlases show at
Monster House
. You may be asking what the Monster House is, and frankly, I did the same thing. Well, there are about 5 or so houses throughout Columbus that put on shows to support independent culture. For examples, bands passing through who need money for gas or whatnot. Anyway, the place is just a house and the show was in the basement. I was really impressed how organized these guys were, with a schedule and everything...real cool stuff.
Anyway, my buddy, who is a huge Maps and Atlases fan, saw the event on their myspace page. None of us had heard of Monster House but figured we would go check it out. When we got there (10th street) we met the guys who rent the place and they were real cool. They said that three other bands would also be playing. They included: Six Gallery(indie), The Dopamines(garage punk), The Pharmacy(psychedelic indie), and Maps and Atlases(math rock). I had only heard of Maps and Atlases, but I was really impresses with both Six Gallery, who I believe were from Columbus, and The Pharmacy, who reside in Washington.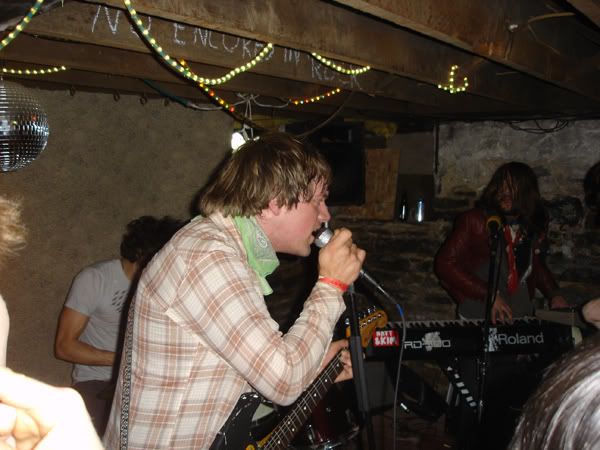 The Pharmacy...


The first band to go on was Six Gallery. They played very technical rock, I would consider them math rock as well, but the flier said indie, so I'll roll with it. So do yourself a favor and run a search or two on them. Next up were the Dopamines. Punk rock would be the only description I can come up with. Not really my cup of tea, but still enjoyable, pretty entertaining guys. I really liked the fans they brought, pumping their fists and wearing their jean jackets, pretty admirable. Then the pharmacy came on. The guy who lives at the house was attempting to describe their sound, but he concluded that we would have to just experience them. He was right, they were very interesting. Lots of reverb, white noise and rockin', I really liked their set. Elements of psychedelia, with a bit of an indie sound.
Then came Maps and Atlases, a band I was pretty familiar with due to my friend who really digs them. They are extremely talented and put on a hell of a show. They use a lot of guitar tapping, and the drummer is ridiculous. They played an amazing set, eve
ry song on their album and a few more that I had seen either through my friend listening to them or on youtube. It was insane to see a band like this in such an intimate place like the basement of someones house accepting only donations so they can continue their tour. That, my friends, is what music shoul
d be all about. I kinda felt bad, I only had 4 bucks on me, they deserved so much more. Also, this basement probably held about 30 people comfortably, so we were forced to scoot up as far as we could to the band. Due to some strategic positioning, me and a few of my friends were a matter of inches away from the drummer and the guitarist was about 2 feet at most. I was actually in fear of the drumstick smacking me in the face. I completely lost control and went into jam mode for a solid 45 minutes. An amazing experience.
The "awesomeness" that took place in that basement is pretty challenging to put into words. I was running late working on a lab assignment only to come home to this note on my desk. Although slightly inappropriate, I think it does an excellent job at describing how great they were. Use your imagination.
One last treat for you guys....Check out the video I took. The quality isn't anything to write home about but still cool. I'll get get on that Spoon/Walkmen/White Rabbits write up here in a little. Stay Tuned....
***yeah so apparently the blogger video upload makes it small as hell (quality=dead), so at least enjoy the sound, sorry it was dark there. Go to the actual youtube page so you can see it fullscreen, you can actually see things then.
<3tony