Ok, so, it has been almost a week since the show and I'm just getting around to the review...cut me some slack, I've been busy. Anyway, the show was in Cincinnati at a venue called Bogart's. Anyway, when we get there I realize that I (yet again) have forgotten my camera that I brought to school for this sole purpose. Anyway, I stopped at the local walgreens and got the worst disposable camera in the history of ...er disposable cameras. So bear with me...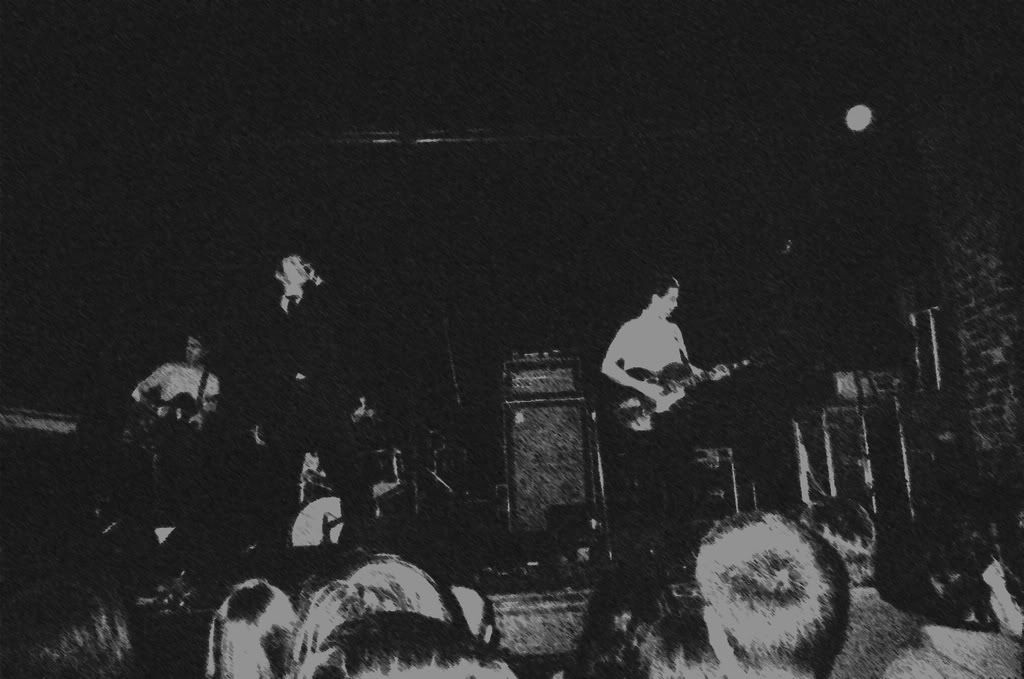 the walkmen...photoshop action to cloak the shitty-ness of the picture...ITS ART DAMNIT!


Next, the walkmen came on. I had seen them at the basement alongside the white rabbits a few months back and was not that impressed. However, I was pretty unfamiliar with their material. This time around they were so much better. Not only did the sound system improve (the basement did them no justice), but I recognized a lot of the songs. And this time, I can honestly say I really enjoyed their performance. Like I said, at the basement the singers voice was like ear-piercing, but this time I found it full of emotion. They are definitely an odd band to see live, but pretty impressive the second time around. Their performance lies directly on the singers shoulders, as he is, aside fromt the drummer, the energy source of the band, and he nailed it at bogart's.

A while back, hmm, lets say late fall quarter, I saw spoon with great northern, and it was great... But, I never did a review or put up any of the gazillion pictures/videos I took. It just seems so dumb that I'm putting up this silly black and white photo when I have a ton of really good ones. Anywho, they were sweet yet again. Although, they seemed to have added a slight bit of electronic effects to their show. I mean they had some before, but this kinda gave some of the songs a psychedelic rock feel, which was sweet. Spoon plays one of the most impressive sets I have seen, that is if you are a fan. They play so many songs, and it is just amazing if you know them and can sing along. These guys have made so many pop gems over their career, it is truly impressive. The set they played at Bogart's was slightly longer since they were headlining a bigger tour, and I think they encored either two or three times. Although this time around their tickets weren't 5 bucks, it was still a great show.

keep on keepin' on,
tony