So, I don't know if you read my "top albums of 08 thus far" post, but since then I realized that I forgot some things. I don't really know how these albums would have placed if I would have remembered them, but that's really not important. Just tryin' to get my opinion of them out there, and most importantly, to let you know if you happened to miss them.
The Best of the Stuff I Forgot

Islands - Arm's Way
No idea how I forgot this one. I really enjoyed this album a lot. There aren't many out their who can throw put this much complexity into a simple pop album. Their first release under the Islands name, Islands are Forever, is truly a classic. Hopefully after as much play time as their previous release got on my PC, this one will go down the same path. I really need give this one a few more listens, and to be honest, I am right now.
Man Man - Rabbit Habits
I don't know if you read my review for the show with these guys and Yeasayer, but they were described as "bat-shit crazy", as they should be. These guys are truly unique. Although they may not be all that accessible at first listen, in the end the album is pretty rewarding. They pull influences from literally everywhere, and the result is just wild. The only thing more wild is their live show, in all its face-painted tribal glory.
The Cool Kids - The Bake Sale
You might have checked out the previous post, if so, then you know how fresh these guys are. This release contained a lot of old stuff from their "totally flossed out EP", which was short, but real good. Anyway, check out this album and if you like it, then be sure to grab their new mixtape called 'That's Stupid : The Mixtape", coming out tomorrow. It's being offered for free, probably
here
, if not, I'll be sure to post a link.
French Kicks - Swimming
These guys give me vibes similar to the Walkmen. This is a pretty sweet album in my opinion, but the stand out track for me was 'So Far We Are'. I originally checked these guys out because they were playing with the Frightened Rabbits at the basement. However, I ended up missing the show, but still became a fan of both bands. So, in conclusion, if you dig the Walkmen, The Strokes, White Rabbits or anybody with that NYC garage revival sound, you'll prolly feel it.
Foals - Antidotes
I think I said this before at some point, but I would describe these guys as a combination of Arctic Monkeys and Minus the Bear. They have that math rock style, with the pop and of course the accent reminiscent of the chaps from Arctic Monkeys. I played quite a bit of the song "Red Socks Pugie" while I was in Columbus on the radio, so check that one out for sure.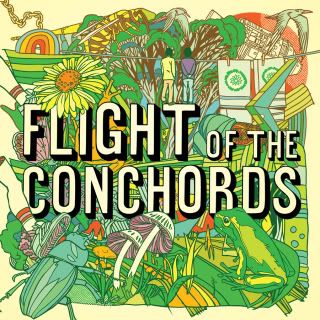 Flight of the Conchords - s/t
Had to mention this one. These songs are hilarious, although most of them aren't new. They are the versions that made it onto the HBO show. I tend to be a bigger fan of the stand-up versions, but still these guys are pure genius. New Zealand's fourth most popular folk parody duo, a must listen. Go watch the show too, pretty sure they are signed up for a new season.
The Apples In Stereo - Electronic Projects for Musicians
I heard this one via promo copy sitting around the radio station. There are some previously unreleased tracks on here, but most are rare tracks and b-sides. This is some quality pop music, like most Elephant Six associates. The Apples are truly masters of poppy psychedelic experimentation. If you're a fan, check it out, if you're not, you should be.
Fleet Foxes - s/t
Seattle folk rock. First heard their stuff from their Sun Giant [EP], which was pretty good in itself. This full length continues their Americana style, and they do it well. The critics sure do love this album, as they should, these guys are truly a talented bunch. I'd say check it out if you're into Band of Horses, My Morning Jacket, [insert some random folk influenced band]. Good stuff.
*********************************************
And theres still quite a bit I need to listen to. Some of which include the 999, 999 albums NIN keeps putting out ( ha, get it? ), the new My Morning Jacket, the new White Denim album, and probably a bunch more.
happy lis'nin,
tony